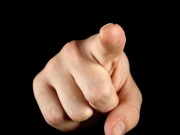 This appeared on the parody and internet meme site The Poke in the last day. This, from a real menu, somewhere in the world, is...
The Internet. Where would we be without it? Quite possibly, we'd all be doing something highly useful with our lives.
Are you a little bit tired of all the hyperbole around social media? Are you annoyed that every second person you meet at a networking event is now a social media expert? You're not alone. This video from The Poke gives us a real infographic about the wonderful world of social media.