Created by teachers, for teachers, the #MissMakesCode program is delivered through specialist teacher training bootcamps where primary school teachers, teacher librarians and parents of five to eight year old girls are provided with the framework to deliver these fun and engaging workshops.
The Ohm base unit is installed in proximity to meters or sub meters, and utilises industry standard connectors to monitor electricity, solar, water, steam, gas and other natural and built environment elements.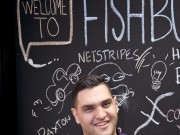 A self-described "massive gamer", Riad Chikhani fell in love with gaming when he was about four years old, when he touched his first ever...