Aussie tech community supports The Office of the Chief Scientist's latest report on boosting high-impact entrepreneurship in Australia through universities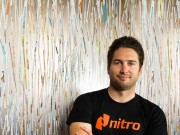 Australian document productivity company, Nitro has acquired Silicon Valley start-up doxIQ, enhancing its document analytics technology.
Remember the time that someone, be it a teacher, friend, classmate, parent or a complete random stranger, shattered your creative confidence. You were told your drawing looked nothing like a castle. Or maybe that your idea would never work. As an entrepreneur, you can face this situation often.
When Steve Jobs stepped aside in August as CEO of Apple, one pundit said the computing pioneer had the greatest second act in business history. But we wonder if Jobs sees it that way. But based on what we hear in this 2005 commencement address for Stanford University, Jobs' life has been one continuous push.
I've been watching a lot of great video lectures on entrepreneurship lately. Gorging myself, really. After all, this was a resource that was difficult...