By bringing a significant number of buyers together to approach the developer you're able to help them by cutting out much of the legwork and the agent fees that would result from selling each block of land individually on the open market.
"The paper highlights the extensive economic benefits of building innovation hubs which have powerful multiplier effects. There's a lot at stake here - if we get it right, we'll be able to capitalise on it"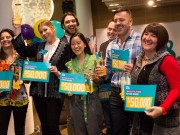 The inaugural Optus Future Makers program, launched earlier this year, is designed to foster digital innovation that has the ability to change the social landscape.
New service recently launched in Sydney, allows taxi drivers to deliver parcels 24/7. After two months of operations, the Sydney-based company expands its activities to more cities across the country.
The Creative Collective is fast forging its niche as Australia's first crowdfunding marketing agency after partnering with crowdfunding giant, Indiegogo.
Nearly 11.5 million credit cards are reported lost or stolen annually in Australia. Just imagine how tall a card castle you can build with...
"Angels without Borders" will be the theme for the upcoming conference, which will feature an international guestlist of speakers and participants. Early-bird registration includes choice of accommodation and closes 26 November.
The Federal Government yesterday announced that a new $20 million Clean Energy Innovation Centre (CEIC) will be headquartered in Newcastle.