Airtasker has acquired Melbourne-based odd jobs outsourcing business Occasional Butler, strengthening its position amongst Australia's online platforms for outsourcing local services. The acquisition caps off...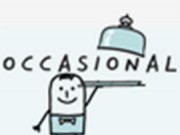 So, Occasional Butler brought you the best, and most competitive, bids to do your garden, or maybe, clean your carpet – tasks that seem horribly challenging in today's world and one that we simply can't live without. Now add peace of mind to the smorgasbord of butler services.
A year ago, the husband and wife duo of Jodie and Erz Imam – one a fashion industry executive and the other a telecom...