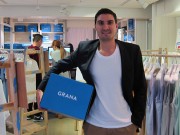 Following the Q1 announcement of its US $6 million in seed funding earlier this year, led by Golden Gate Ventures, MindWorks and Bluebell Group, the GRANA team will move into a new 18,000 square-foot centralised warehouse in Hong Kong this month to manage business growth and plans to double its headcount to 100 employees by the end of 2017.
Performance marketing tech company Criteo recently released its Q4 2014 State of Mobile Commerce Report, critically looking into consumers' mobile shopping behaviour and trends. Finding that...
Drinks Cube co-founder Jessie Teh-Chong said while cultural diversity was usually promoted through food or national costumes, drinks were always overlooked as a likely ambassador.