The ACS – The professional association for Australia's ICT sector – in conjunction with the CSIRO's Data61, ANZ Banking Group, the Commonwealth Department of...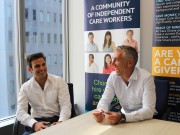 Personal care and disability support start-up Better Caring has closed a $2.3m Series B to accelerate the rollout of its rapidly growing service nationally
By now everyone in the Australian start-up space should be aware that the government has made significant changes to the way in which equity or options issued to employees will be taxed.
StartupAUS's Crossroad report, based on an expert analysis, says the nation lags such nations as Israel, South Korea and the United States, while calling on the government to act now.