Home
Tags
Australian small businesses
Tag: Australian small businesses
Such 'key people of influence' are able to pitch ideas successfully and build the reputation of their companies. They become thought leaders and innovators, whose presence enhances an entire organisation.
When everyone has access to the same information, something profound happens: systems become unified, and processes become streamlined. You can then start to roll out standard processes across your organisation.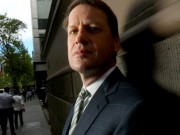 Queensland cruise operator Frankland Islands Cruises, and New South Wales technology company Intersective are among the first Australian small businesses to benefit from export funding through the Small Business Export Loan, the latest finance offering for small businesses from Efic, Australia's export finance agency.
Nexba's new range of Cola, Lemon and Orange Sparkling Infusions are a natural, zero sugar alternative to traditional sugary soft drinks, with no artificial ingredients, flavours or sweeteners.
​Xero, a leading cloud accounting software, recently announced the launch of the Business Gold advice guide, featuring insights from champion swimmer and gold medallist Michael Klim, to help small businesses succeed.
Tech start-up Netstripes has found that only 22 per cent of Australian businesses are digitally engaged and using technology to grow their business
Moula, an online platform for small business lending in Australia, has closed a A$30 million investment round led by Liberty Financial, NCN Investments and...