As remote learning has become a necessity for many, GO1 has tripled engagement on the platform over the last month. The funding will be used to increase market expansion in North America as well as expand its content provider partner network in direct response to the increased demand for the platform.
GO1.com, the world's largest onboarding, compliance and professional development platform, has raised more than $30 million in a Series B funding round led by M12, Microsoft's venture fund.
SEEK has had a long-term relationship with GO1.com – both as a customer and more recently inking an Australian-first partnership for the benefit of job seekers.
Investing further in GO1 was a no brainer. GO1 is the perfect example of a startup who absolutely gets it and is poised to grow rapidly all over the world into a leading provider of learning and management platforms.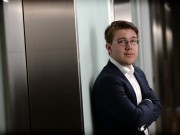 Brisbane-based training software startup, GO1, recently inked a US$1 million investment deal with Queensland business leader, Steve Baxter and Sydney venture capital fund, Tank Stream Ventures.
What is the 30under30? 30under30 is an Anthill initiative launched in early 2008 to encourage and promote entrepreneurship among young Australians. Each year, we invite...