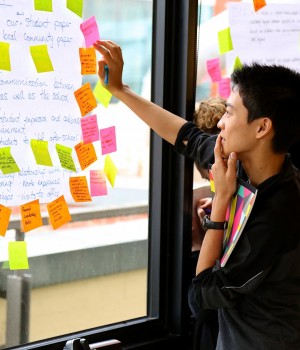 NAB has partnered with the Foundation for Young Australians to deliver $20 Boss, a $1 million program designed to equip Australian students from years 7-10 with the entrepreneurial and enterprising skills to set them up for the future.
The $20 Boss challenge officially kicks off from the 17th of August to the 18th of September, and will culminate in an awards ceremony to celebrate Australia's most enterprising school and students later in the year.
As part of the program, registered secondary school students are given $20 from NAB to start a business, either on their own or with fellow classmates. There are seven modules to the program and students will be taught over the course of the month vital entrepreneurial skills such as how to plan, budget, market and then run their own business.
David Bannatyne, General Manager, NAB Small Business, said the $20 Boss program was designed to help prepare young people for a world of work that was increasingly more complex, insecure and globally competitive.
Research shows that young people who have undertaken enterprise education are more likely to exhibit attitudes associated with entrepreneurial potential.i
"That small businesses will dominate the future seems a fairly firm prediction. Already it can be said that small business is the lifeblood of Australia," Mr Bannatyne said. "Increasingly, the onus will be on future generations to use those entrepreneurial skills to become active job makers – not just job seekers."
Jan Owen AM, CEO, Foundation for Young Australians is keen to see the school community, whether that be principals, teachers or parents, actively get behind the program. "Unleashing the creativity of young people is an essential element in preparing them for their future roles as innovators and creators of social change," she said. "There has never been a generation so willing or able to embrace and create change. $20 Boss is a fantastic way to engage young people and encourage their entrepreneurial spirit."
The $20 Boss program is open to all high school students across Australia and is run by teachers with flexible content across seven modules that can be tailored according to educational requirements.
To find out more about the $20 Boss program, see 20boss.fya.org.au