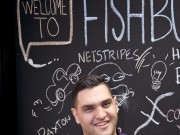 A self-described "massive gamer", Riad Chikhani fell in love with gaming when he was about four years old, when he touched his first ever...
Why do most businesses make it so complicated for themselves, as well as you and me as consumers? And how come some businesses get...
How does a gaming company avoid being a one-hit game wonder? Rovio and Halfbrick Studios have managed to leap that hurdle. What is the Halfbrick secret after the amazing success of Fruit Ninja? The company adopted the Google's 80-20 method of work.
It seems British comedy legend Ronnie Corbett's character has a problem with his Blackberry ... er, blackberry. In addition to this bit being incredibly smart (and deliciously old-skool), it also reminds us that even in the digital age, what's new is old, as we outfit common words and phrases with new definitions.
This is what Microsoft is working on for the next evolution in gaming. Project Natal, as it's being called, was unveiled back at the start of June at the E3 gaming conference. It features controller-free, full-body gaming. If it works half as well as this video, Sony and Nintendo will be scrambling.