So what happens when you're CEO of a busy company who also has a dream of pursuing their 'hobby'? How can you balance the two, be great at both and not burn out in the process?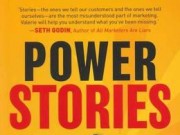 Marketing podcast, PreneurCast, is for entrepreneurs, by entrepreneurs. Author and marketer Pete Williams and digital media producer Dom Goucher discuss entrepreneurship, business, internet marketing...
He won a Chinese kickboxing title by pushing opponents out of the ring. He regularly analyses his own blood to identify trends. And he...