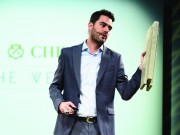 The Venture, luxury whisky Chivas Regal's search to find and support the most innovative startups from across the world, rewarded five social enterprises the remaining share of their $1million annual fund at their Final Event in New York City.
Legal stoushes over intellectual property infringement flare up all the time, and they are invariably serious affairs. But it's hard to keep a straight face watching this report from The Daily Show's Wyatt Cenac, who tries to get to the bottom of the stink between Air-O-Matic - the makers of Pull My Finger (a popular iPhone application that was at one point bringing in US$10,000 a day), and the moguls from InfoMedia who cut Air-O-Matic's lunch by releasing their own Top Selling app, iFart.
For all the sober analysis and prognostication being offered about the troubles facing the newspaper industry, often the most revealing truths surface through satire....