While a focus on training Australians to fill our own labour market needs is important, skilled migrants are often best positioned to be educating the next generation of Australian workers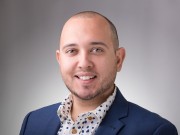 Australian start-up incubator Tech Pilot Fund are hosting a weekend-long hackathon event in Sydney with a difference. The event is the initiative of Tech Pilot Fund founder and CEO Simon Anquetil to help foster a healthy start-up scene in Australia and reinforce the crucial role of women in the tech industry.
The idea that older workers struggle more than their younger colleagues with technology has been debunked by a comprehensive new survey by Dropbox.