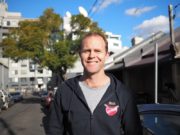 The Suncorp investment was $1.5m. It's also part of a $10 million funding round, raising up to a further $1,000,000 on the Equitise crowdfunding platform.
CoVentured, the Sydney business connecting thousands of startups and scale ups to corporates, has broadened its footprint beyond Australia.
IntelligenceBank, a software start-up that helps enterprises move to the cloud, has opened its online store, delivering on a $2 million funding round last November to build a compelling online sales channel.
Big Data. It's a double-edged sword. For example, what if that website you visited about "Cats that look like Hitler" led us to believe that you really liked Cats, so we used that Behavioural Data to target you with ads about Cats. But, in reality, you might actually be into moustaches. And Hitler.
A Newspoll survey, commissioned by Suncorp Life, has analysed what events are considered the most stressful for Australians. Having their house destroyed by natural disaster ranks in the first place, followed the by serious illness or injury. Curiously, many Australian men find marriage to be the most stressful event of their life.
We like to say that teenagers take risks because they think they're invulnerable. It turns out the teens may be right, at least comparatively. According to a study by insurance firm Suncorp Life, the riskiest age in an Australian's life is 40.
As consumer, we go to great lengths to find the best deals from banks and retailers -- and we tend to stick around when we find service tailored to our needs. Thus claims a new survey comparing Aussies with consumers around the world. The survey, which was commissioned by NCR Corporation, looks at the importance of self-service, personalisation, and technology when choosing a brand.