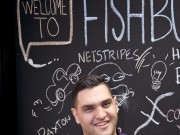 A self-described "massive gamer", Riad Chikhani fell in love with gaming when he was about four years old, when he touched his first ever...
How does a gaming company avoid being a one-hit game wonder? Rovio and Halfbrick Studios have managed to leap that hurdle. What is the Halfbrick secret after the amazing success of Fruit Ninja? The company adopted the Google's 80-20 method of work.
Hackers' security breach of Sony's PlayStation network ranks among one of the worst online attacks in history, according to Australia-based ComparisonFinder, which put together a timeline of the hack that cost Sony about $1.25 billion. Check out this awesome infographic.
Hackers and open-source software magicians are taking the motion-detection capability of Xbox 360's Kinect and plugging it into all manner of eye-popping stuff. Imagine what an entrepreneur could do with hands-free computing.