Australian tech start-up Incent has partnered with gaming league leader Gfinity Esports Australia to build the world's first live broadcasting rewards platform powered by cryptocurrency and blockchain technology, now poised to disrupt the world of online gaming.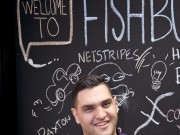 A self-described "massive gamer", Riad Chikhani fell in love with gaming when he was about four years old, when he touched his first ever...
Last year, we witnessed Grand Theft Auto 5 break five Guinness records, grossing $1 billion within three days! 2013 was clearly an awesome year...
In today's world which is flooded with laptops, tablets and smartphones, kids become digitally fluent far earlier than previous generations. Now, AVG has found evidence that pre-teens are writing malware designed to steal login details from online gamers, both young and old.
Underground spam companies are infiltrating popular online games, such as World of Warcraft, by hiring players to accrue and sell virtual possessions of in-game value, such as swords and potions. It's a new frontier, and the authorities are fighting back, sending virtual detectives into these games to police such activity.