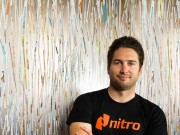 Australian start-up success story and leading document productivity company, Nitro has secured US$15 million in funding (Series B round) from top tier US venture...
Most people have experienced a toxic relationship that they have stayed in too long. So I am sorry, I am going to be that interfering friend that tells you to: "Ditch your passwords. You deserve better!"
Even as multitouch screens have become de rigueur for our phone and tablet experience, researchers are pushing hard on dependable, hands-free ways to make our toys work. Swedish company Tobii Technology teamed up recently with Lenovo to demonstrate Windows 7 laptops with eye-control sensors built in.