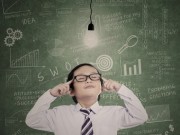 Cameron Herold says this child might be an entrepreneur. Below he calls for parenting and education that helps would-be entrepreneurs flourish both as kids and as adults.
Since the dawn of time, kids haven't come with manuals. But, at some point, a parent's instinct kicks in, and we work out how...
At news that the yanks had 'taken out' Osama bin Laden, we hungrily ingested the opinions of Washington insiders, Kentucky short-order cooks and Al Qaeda terrorists. (Heck, CNN and Time magazine even tracked down the kids who were listening to President George Bush read "The Pet Goat" when the 9/11 attacks occurred and asked them what they thought of Bin Laden's demise.) Oh, yes. We've heard it from all angles. At least, we thought he had.