Home
Tags
Enterprise tech startups
Tag: enterprise tech startups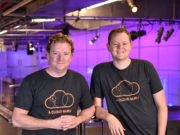 A Cloud Guru (ACG), one of Australia's fastest growing enterprise technology companies, announced at the end of April that it...
It is targeted at later stage B2B startups, who have ideally secured seed funding, turnover of at least AU$500,000, and have proven traction in local or overseas markets.
KPMG Australia recently announced the launch of mLabs, a market-first corporate fintech accelerator connecting forward-thinking mutual Authorised Deposit-taking Institutions (ADIs) with some of Australia's most exciting fintech startups.