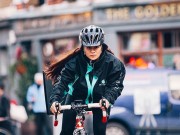 Young Australians are the keenest for airborne deliveries with 24 per cent of 18-24 year olds hoping drones can deliver their goods faster, compared to the national average of just 16 per cent.
Melbourne delivery software start-up, Swift launched their delivery management software that enables any business that delivers to offer real-time delivery tracking of their items.
When promoting your product or service, it's easy to miss a key trick by failing to make what you're selling unique. The term 'Unique Selling Point' (USP) was first coined in the 1940s, and first defined in print by advertising executive Rosser Reeves in 1961. A good current example of a clear USP is the well-known brand Head & Shoulders' "You get rid of dandruff."