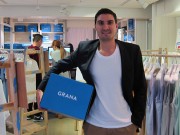 Following the Q1 announcement of its US $6 million in seed funding earlier this year, led by Golden Gate Ventures, MindWorks and Bluebell Group, the GRANA team will move into a new 18,000 square-foot centralised warehouse in Hong Kong this month to manage business growth and plans to double its headcount to 100 employees by the end of 2017.
Australian online retailer of men's underwear DailyJocks.com has shipped more than one ton of underwear in the month of April, with more than 80...
The next time you tune in to the Cup to cheer on the Wallabies this month, take a careful look at what the players on the pitch are wearing. That way you can better appreciate what Ben Carroll of Velflex does for a living. Velflex specialises in using heat transfer technology to print numbers, lettering, and digital images on garments for the sportswear and promotional industries.