Home
Tags
Queensland University of Technology
Tag: Queensland University of Technology
Australia's next wave of creative tech entrepreneurs and business leaders are turning their big ideas into bright futures with the commencement of...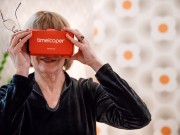 CEA will host TimeLooper for a six month period, helping the team to connect to the local start-up networks, provide access to mentors and its onsite coworking space, The Coterie, business advice, access to its incubator masterclass program, exposure at Creative3 and other levels of support required to accelerate the growth of the platform.
Tech start-up Neto is one of the few Aussie e-commerce players that stands up to the giants like Shopify and BigCommerce and Telstra owns a huge stake in it
Among developed countries, Australia's rate of entrepreneurship is second only to the United States, with 10.5% of the population engaged in some form of entrepreneurial activity. In terms of gender inclusiveness, too, it is second only behind the world's richest country. But at 8.4% women entrepreneurs, the number is down from 2010 levels.
In a nutshell, the study demonstrates strength and complexity of connections among Australian users of Twitter, besides revealing "vibrant networks around issues of interest and concern to Australians that interweave across the whole physical continent."