Sydney-based startup Get has completed its latest funding round, raising $3.4 million. Previously known as Qnect, the online platform facilitates payments for university clubs and societies, with large amounts of users in Australia, Singapore and Hong Kong.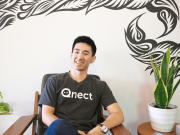 Daniel has grown this fastest growing marketplace and payments platform for university organisations and students across the world, selling $6,000,000 USD worth of tickets, organisation memberships and merchandise
This SMART 100 profile and the information it contains is a duplication of content submitted by the applicant during the entry process. As a...