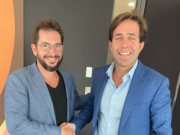 Australasia's largest real estate agency, Ray White, has just invested $3m into Sydney-based proptech company NurtureCloud, to both improve its own network's offering as well as being part of exploring international opportunities for the product.
A new cloud-based technology called Abacus, developed in Australia by workspace marketplace Office Hub, combines elements of AI and automation to allow tenants to bid and negotiate rental agreements with workspace operators.
Powered by Australia's largest tech start-up accelerator BlueChilli, The Stockland Accelerator offers start-ups the opportunity to refine their bold idea and develop it into a prototype, with $38,000 upfront investment and up to $500,000 in follow-on funding.
Next Address Founder and CEO Julie O'Donohue's own experience as an ex-real estate agent led her to create a platform that is transparent, offers a more affordable way of buying and selling property, saves people time and puts the customer in complete control.