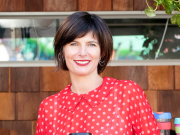 The outcome was a lightweight and thoroughly considered design that was BPA free and non-toxic; the world's first barista standard reusable cup, KeepCup was born.
Rather than another boring car ad, you know the ones with panoramic views, winding roads and well behaved children, Fiat took a different approach. Talk about speaking directly to your target market! The motherhood rap is rocking the YouTube world. Word!
Last year's Mother's Day gifts of showy bling and fancy perfume will likely give way to chocolates and bouquets. It's not that we love you any less, Mum. It's the economy, y'know.