Award winning event tech start-up iVvy is revolutionising the events industry by centralising function spaces and group accommodations for the first time ever in Australia on its new Marketplace platform.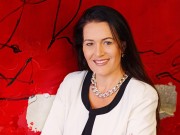 Brisbane based event management software solutions provider iVvy, announced the launch of the world's first real-time booking platform for the hospitality and MICE industries...
Gary Berman's ubid4rooms.com allows people to bid for deeply discounted rooms at hotels across Australia and in New Zealand. More than 1,000 properties are listed on the site -- from B&Bs to resorts and everything in between. Who says that dotcoms are a Gen Y game?