1Scope was established in May 2016, the MVP launched in November 2016, they raised $1 million in February 2017, and since then, over 9000 students across 200 schools are using the platform.
1Scope founder and CEO, Christina Chun, says 1Scope is free for students to access and has the support of numerous leading Australian corporates as well as some of the country's leading universities, high schools and education providers.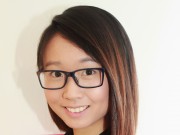 Christina Chun, 26, didn't exactly have it easy growing up. Coming from a disadvantaged background with a disability and raised by a single mother who couldn't speak English. Chun overcame these adversities to pursue her passion for advocating for young people aged 12-25, in Australia facing challenges of obtaining opportunities in the workplace. 1Scope was created and launched within four months. It is a central and virtual hub that connects these students to a plethora of opportunities available to them--employment, scholarships, training programs, and more--in the marketplace and allows them to categorically research and apply for these opportunities in one setting.