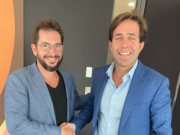 Australasia's largest real estate agency, Ray White, has just invested $3m into Sydney-based proptech company NurtureCloud, to both improve its own network's offering as well as being part of exploring international opportunities for the product.
Australia's first hyper-local social media network, Nabo, recently successfully completed an additional round of funding from investors Seven West Media and Reinventure, an independent...
Australians no longer have an excuse not to know their neighbours' names. Sadly, more than half (58 per cent) of Australians never connect with...