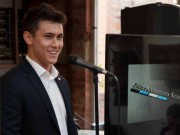 What is the 30under30? 30under30 is an Anthill initiative launched in early 2008 to encourage and promote entrepreneurship among young Australians. Each year, we invite our...
A privately initiated discussion has been gaining some momentum on the Anthill LinkedIn Group over the past week. The discussion was triggered by an announcement from the Office of Senator Kim Carr, Australia's Minister for Innovation, pertaining to the selection of Commercialisation Australian board members.
Sydney University's Warren Centre for Advanced Engineering is on the hunt again for Australia's greatest innovators. Nominations are being sort for the Innovation Heroes Award, which the Warren Centre bestows each year on innovators who have created successful products or services from brilliant engineering ideas or inventions.
Well now it seems that the marketers at Youi thought an insurance company winning a national business award for coolness was a pretty good point of difference. So much so that they have launched a national radio advertising campaign crowing about their cool triumph.