recognising entrepreneurs under the age of 30
Having a 16% conversion rate for sales of product that is completely new to the market and won't be delivered for 6‑8 months to the household is a very remarkable feat
90% of deaths for individuals with autism is a result of drowning. Erika developed Autism Swim in response to this hugely underreported statistic, and is the only business in Australia aimed solely at mitigating it
Found has now signed up over 300,000 job‑seekers, and are processing over 250,000 job applications per month. The company has also raised $4.5m of capital, and is working with some of Australia's largest companies.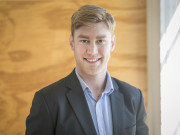 Healthlogic Physiotherapy has grown from one to two clinics in under six months and picked up half a dozen corporates already with our Physiodirect innovation. PHW has grown to over 60 team members now across all states of Australia
Gil is out to empower brands with the best all‑in‑one programmatic solution to help them maximise their marketing spend with Bench, a powerful platform for marketers to manage and successfully scale their performance marketing campaigns.
Human Performance Science specialises in ensuring workers are physically fit for their workplace, using scientific methods to study the physical demands of a workplace (e.g. strength demands, cardiovascular demands)
A proud Karratha local, Cory supports the employment of local people where possible, and believes strongly in investing in our community. KBSS has won numerous awards, including KDCCI Business Excellence Awards, and a Telstra Business Award.
Adam believes students across Australia need to learn about the basics of starting their own business ‑ so his company illuminate Education teaches these skills to primary & high school students in a practical and authentic manner.